Dear all,
I am using Nanopi R2S with image OPNsense-21.7.3-OpenSSL-aarch64-NanoPi-R2S-20211012.img.xz and was wondering if there is a way to display CPU clockrate and CPU temperature, either on the WebGui or via console?
The R2S seems to run a bit hot and I would like to monitor how it behaves under higher load.
Ryker
Hi Ryker!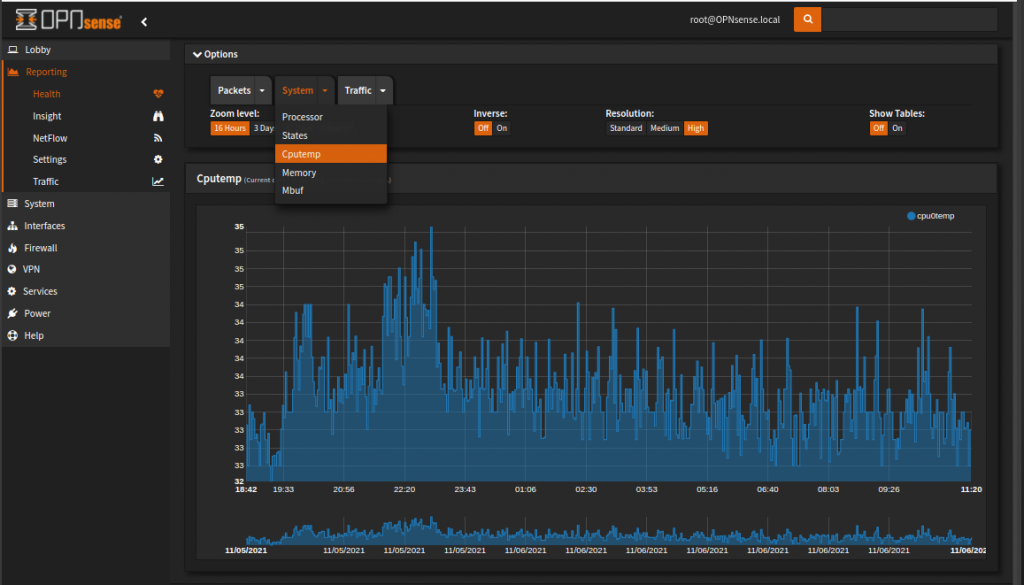 Thanks – found it – R2S in yellow plastic enclosure running at 91 degree (idle) with 21 degree ambient. I guess need to drill holes now and/or check bigger heatsink.
Hi Ryker!
I recommend using the R2S images for reference only, not for real work, as the ure driver is far from ideal.
If you want to have real pleasure, you need to buy the Nano-PI-R4S in an iron case, this is an almost ideal device for home use controlled by OPNsense.
Sleep Walker.
Thanks a lot, just received a 10USD metal housing for R2S and it now runs at 59 degree max.
I have not experienced any issues with ure/RTL8153B so far, but Internet line is running at 40mbps max. So I hope you will continue maintain the R2S images, as the device now does a really perfect job – it is a real magic being able to run OPNsense on these little ARM boxes. BR Ryker
---
Hi there, can you please briefly explain how ure driver issues will be recognised? I do see some instability in my setup with R2S even at very low throughput rates, but cannot judge if this is related to ure/LAN interface. Please let me know. R4S is quite expensive in the meantime, I am willing to spend the money, but want to be sure there will be a real benefit coming from it compared to R2S. BR