FriendlyElec NanoPi R4S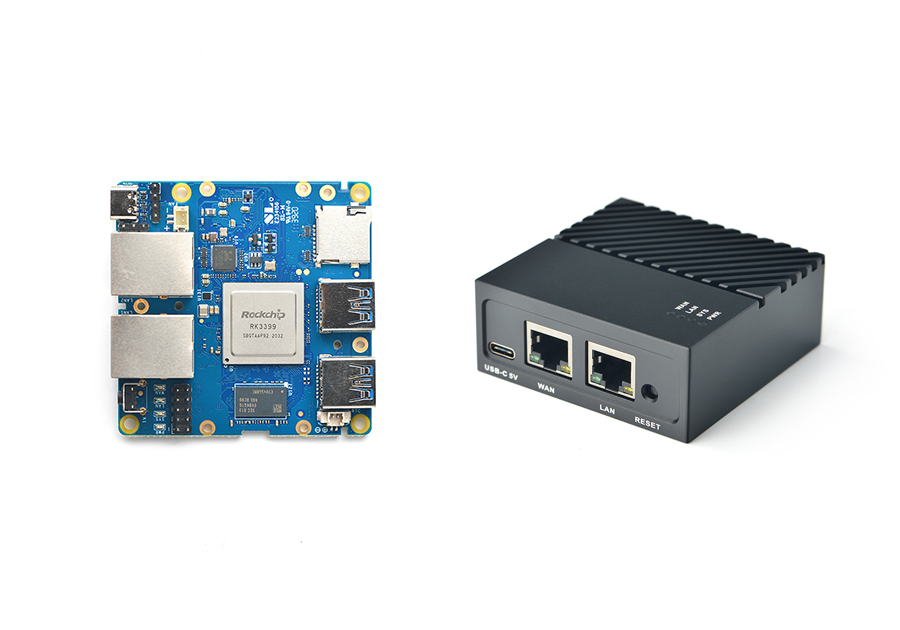 The NanoPi R4S (as "R4S") is an open source platform with dual-Gbps Ethernet ports designed and developed by FriendlyElec for IoT applications.
The NanoPi R4S uses the RK3399 SoC. It has two Gbps Ethernet ports and 1G/4G RAM.
FriendlyElec ported an OpenWrt system for it. It works with Docker CE. It is a good platform for developing IoT applications, NAS applications, smart home gateways etc.
Hardware Spec
Board Specifications

SoC Model

Rockchip RK3399 – Hexacore
2x Cortex-A72 + 4x Cortex-A53
SoC Architecture
ARMv8-A 64-bit
CPU Frequency
A72 : 2.0GHz, A53 : 1.5GHz
Memory
RAM
1GB DDR3 or 4GB LPDDR4
microSD Slot
1
External Interfaces
Gigabit LAN Port (1Gbe)
one Native Gigabit Ethernet, and one PCIe Gigabit Ethernet
USB 3.0
2xType-A
Developer Interfaces
2×5-pin header
SPIx1, I2Cx1
4-pin header
USB 2.0
Debug
One Debug UART, 3Pin 2.54mm header, 3V level, 1500000bps
Others
LEDs
1 x power LED and 3 x GPIO Controlled LED
Power supply
DC 5V/3A, via USB-C connector or Pin header
PCB
8 Layer, 66 mm x 66 mm
Temperature range
0℃ to 80℃
Reset button
1
From these links you can download the SD card installation images for
FreeBSD 13.1-RELEASE and OPNsense